"Braunform – we act" - social engagement
29.11.2017
As a regional SME Braunform assumes its social and cultural responsibility to its employees and the society. The health of our staff and social commitment are important elements of this responsibility.

It is important for the company to support social engaged organizations and projects on a sustained basis. For this reason Braunform has dispensed with sending Christmas presents to customers and instead donates to socially engaged organizations since several years. This year, the company has again decided to support the association for children with cancer e. V. in Freiburg with the sum of 1,500 €. In addition the University Hospital Freiburg receives 1,500 € for the project "Tigerheart … if parents have cancer".

The association for children with cancer cares about the concerns and needs of families with a child with cancer since 1980. As the children meanwhile arrive from all over Germany, the family home with its family-oriented concept has attained a very high priority. Also integrated in the parents house is the brothers and sisters care, a social service and also the care for orphan parents, who have recently lost a child. The project "Tigerheart … if parents have cancer" is a free child and youth offer of the psychosocial cancer consultation and supports affected families.

With the support of the Braunform`s HR and marketing team the management annually supports various projects proposed by employees with an amount of 3,500 €. The "Blue House" in Breisach received a donation of 900 € for integrations projects. One of our employees cooks honorary together with refugees or repairs bicycles. Moreover, a part of the donation went to the EC youth work which allows children from low-income families to participate in the summer camp. This was supported with a donation of 900 €. For the promotion of young musician the music club Kollmarsreute receives 500 €. The RSC Bulls Bahlingen is supported with 500 € for the newly created younger area. Besides, the kindergarten "Pfiffikus" in Waldkirch got 200 € for the acquisition of a reading area. And the junior fire brigade from Bahlingen receives 500 € for new football shirts.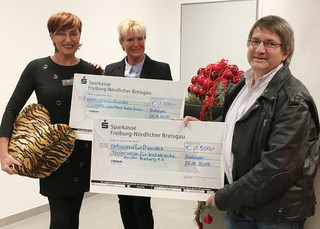 Contact Person
Marketing

Tel. +49 (0) 7663-9320-0
marketing@braunform.com