TELC - Tamper Evident Luer Lock Closure
Cooperation with Gerresheimer Bünde GmbH
03.05.2013
The experience of 35 years of mold making at the highest stage and a profound understanding for the pharmaceutical market creates a basis for the trust of our clients to Braunform GmbH. Therefore started the development project TELC in close cooperation with the company Gerresheimer Bünde GmbH. The abbreviation TELC stands for "Tamper Evident Luer Lock Closure", a tamper-evident closure system for prefillable syringes. The innovative closure is injected within a two-component injection molding process and sets just as high standards for the design and material selection as for the mold making and clean room production conditions.
A technical innovation of the series mold is the nozzle side, low particle unscrewing of the Luerlock adapter as well as low-particle shearing off of the sprue after the injection process. Very skinny, freestanding cores go into action due to the filigree contour for the originality tabs, which display the first-time opening of the closure. There's also implemented a special needle seal hot runner system for the cap, which is operated by an inclined ramp. Other technical challenges are the cap's thick walls, which must be openable with a defined torque as well as the clean contour separation of the two components.
The 16+16 cavity 2-component injection mold with rotary table was preceded by a close-to-production pilot mold for risk minimizing. The special material combination of the pharmaceutical primary packaging results in a large temperature gradient in the mold: At one extreme the Luerlock adapter is formed from a high-temperature-resistant and tough polycarbonate (PC) at a mold temperature of about 100°C, at the other extreme the cap with originality tabs from a thermoplastic elastomer (TPE) at 40°C.
Besides the temperature difference and the high pressure, the challenge lies in processing in the hard/soft combination, which does not chemically bond to itself and furthermore is sterilizable. To avoid burning and black spots in the PC components, the manufacturer's instructions must be strictly followed.
Due to the critical material selection, the TELC is injected in an own production cell under Class 5 clean room conditions according to ISO 14644-1 and each cavity is intercepted individually by a patented handling system. Afterwards the customer-specific rubber seals are inserted in the assembly process.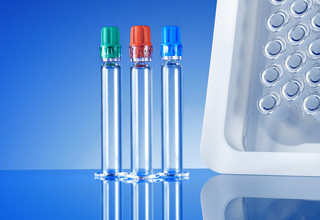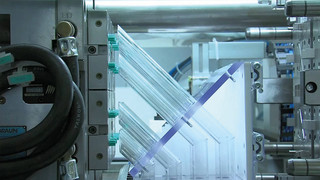 Contact Person
Marketing

Tel. +49 (0) 7663-9320-0
marketing@braunform.com