"We are focusing on training!"
Braunform starts the new apprenticeship year with eight new trainees and one DH student in the technical and commercial sector
11.08.2014
On 1st September 2014, a total of nine trainees and students will start at Braunform: six tool mechanics, one mechatronics technician, one industrial clerk and one DHBW student with a Bachelor of Arts degree in business administration / industry.
Braunform has been showing the importance of training for many years by regularly hiring several young people as apprentices. With this the company secures its future and prevents a shortage of qualified specialists.
Get to know the future training centre in advance
"It is important for parents to get to know both the workplace and the trainers of their child," says HR Manager Oliver Bornhäuser. For this reason, a so-called "Trainee Parent Afternoon" takes place at Braunform just one month before the start of the training. In addition to a tour of the company and a round of introductions, all open questions are answered so that nothing stands in the way of an entry into the world of work.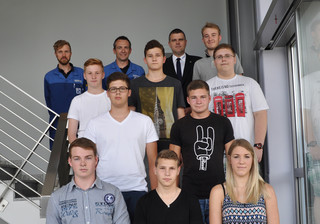 Contact Person
Marketing

Tel. +49 (0) 7663-9320-0
marketing@braunform.com