Women's power at Braunform
Many women successfully complete men's jobs
01.08.2023
Gabriela Hundertpfund has been working at Braunform since August 2017. From a production employee to a process mechanic. She is one of many women who learned a "man's job" and made a conscious decision for herself: A man's job is not a man's job. Now women's power is the order of the day!
When she started working at Braunform as a production employee in 2017, she came into contact with the different machines and so her interest in the technology of the machines increased. During that time, Ms. Hundertpfund noticed how much fun it was for her to get to grips with the machines and all the associated material and to work in such an environment. Braunform GmbH has a high-tech machine park and is one of the hidden champions in the region. Gabriela Hundertpfund's son also completed an apprenticeship as a process mechanic at Braunform and so her decision was soon made: she would also like to start an apprenticeship as a process mechanic. One year later she started her apprenticeship and entered the second year directly. Ms Hundertpfund tells us:
"Unfortunately, technical trades are still considered typical "Men's jobs".
Women, for example, can often provide different approaches to solving problems than their male colleagues. The quality of work does not depend on gender, but on the skills and motivation of the individual. I feel a sense of achievement when I set up the tools, the machine runs smoothly and production goes without a hitch. That makes me happy! My family is very proud of me. You have to believe in yourself, then you can do anything - women should dare!"
Girls' Day 2023 at Braunform
On 27.04.2023 the "Girls' Day" took place. On this day, committed girls had the opportunity to defy the career choice clichés and discover the occupational fields in technology, crafts, engineering and natural sciences for themselves. During a tour of the Braunform company, the trainees provided information about their apprenticeship and answered all questions. Afterwards, in order to immerse themselves practically in the apprenticeship profession, they made their own souvenir. The next Girls' Day 2024 will take place on 25 April.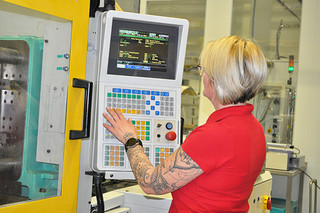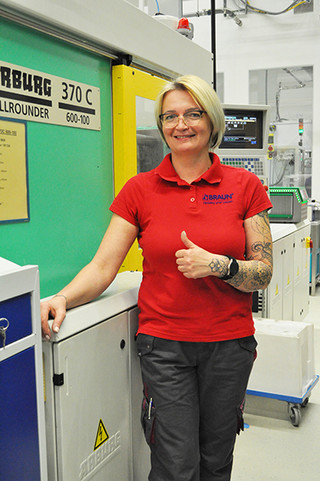 Contact Person
Marketing

Tel. +49 (0) 7663-9320-0
marketing@braunform.com