Trainees complete their training
– takeover in a permanent employment relationship
09.04.2019
Braunform has always placed great emphasis on the quality of apprenticeship. Each year 12-14 apprentices are intensively trained and taught. On average, more than 40 apprentices and students of DHBW passed through their education in the company in parallel.

For this reason, the management of the company can congratulate five trainees on successfully completed training this spring again: Jannick Bührer, Dennis Fees, Vincent Grimm, Nico Hoelle und Philipp Jahnz.

Following their successful training, all trainees will be taken on a permanent contract and will start their next career step in the company. On the part of the specialist departments, the interest in own, trained apprentices is very high due to the sound training. Therefore they will gain initial work experience in a wide range of business areas, such as surface milling, maintenance, assembly, die sinking and cylindrical grinding, and will strengthen the departments.

Braunform underlines its responsibility as an employer and educator by offering young people a professional perspective through a qualified training. The medium-sized company invests in its future since many years by offering various training occupations in the technical and commercial field. Since the beginning as a company that takes on trainees, already more than 200 qualified employees finished their apprenticeship successfully and could be taken over in a field of application afterwards.

To mark the start of the application process for the training places 2020, the annual training day will take place on July 13, 2019, where interested pupils, parents as well as teachers can get first insights into the training company.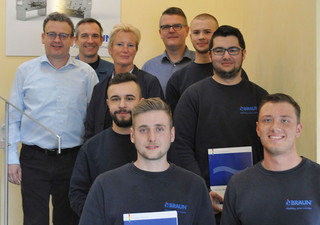 Contact Person
Marketing

Tel. +49 (0) 7663-9320-0
marketing@braunform.com