Support for socially engaged organizations and projects in the region
10.12.2019
The social position "Braunform – we act" is firmly anchored in the company´s policy this year. It is important to the medium-sized company not to lose sight of its social responsibilities and therefore does not send Christmas presents to customers and instead donates to socially engaged organizations. Braunform also supports several projects proposed by employees.
This year the company supports the association for children with cancer e. V. in Freiburg as well as the University Hospital in Freiburg for their project "Tigerheart… if parents have cancer" with a donation of each 1.500 €. Since 1980 the association for children with cancer cares about the concerns and needs of families with a diseased child: meanwhile, the family home with its family oriented conception belongs to one of the most renowned contact points in Germany. It integrates a station for siblings care, social service and as well a contact point for orphaned parents who recently lost a child. The project "Tigerheart … if parents have cancer" is a place, created and supported by the psychosocial cancer consultation, who offers children, teenagers and their affected families, support in form of consultation where they can play together and talk about their fears and worries.
As part of the projects proposed by employees, the management supports together with Braunform`s HR and marketing team the association for children with cancer e. V. in Freiburg with 2,500 €. In addition, five regional associations will receive 250 € for their work: The charitable association "KiRi - Familie & mehr" in Ringsheim will use the donation for activities with children, such as cooking, handicrafts and games together. With the donation for the kindergarten St. Jakobus in Denzlingen the outdoor area is to be extended by a climbing scaffold. The fire brigade in Forchheim appreciates the donation for the purchase of new sweaters and shirts for the youth department. The RSC Bulls Bahlingen will support the encouragement of the youth with the donation. The wish of new playground equipment of the support association for the redesign of the Bickensohler playground is also fulfilled. In addition to the employee projects, Braunform also supported the donation bike tour from Andreas Eckermann for the German Children's Hospice Association with 500 €.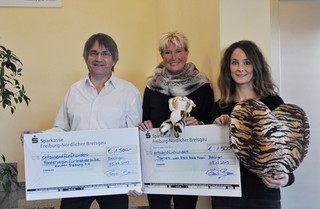 Contact Person
Marketing

Tel. +49 (0) 7663-9320-0
marketing@braunform.com