Honor for 25 years of seniority
Braunform congratulates Georg Seebacher.
04.12.2019
On 01.12.2019 the management of Braunform GmbH honored Georg Seebacher for his 25 years of seniority. Managing Director Pamela Braun and Head of HR and Finance Oliver Bornhäuser expressed their thanks to the jubilarian for his commitment, loyalty and reliability.
As a family-owned company, Braunform places great emphasis on continuity and loyalty. The expertise of long-standing employees is of great importance. "At Braunform, we wholeheartedly believe people are our most valuable asset," says Managing Director Pamela Braun. For this reason, we attach great importance to the qualification and further training of our employees, as well as to acting on their own responsibility.

Career:
On 01.12.1994 Dipl.-Ing. Georg Seebacher started his career at Braunform GmbH in the design department of the mold maker. Due to his experience, Mr. Seebacher was able to implement a wide range of projects for sectors such as automotive, pharma and personal care. In addition to designing numerous multi-component molds, products which each one of us knows from his daily life, the specialist was involved in the development of the company's rotary table range and was responsible for the layout of the rotary table. After collecting extensive technical know-how, he looked for a new challenge in September 2012 and found it in the area of project management, where he is still active today. Georg Seebacher attaches great importance to music: The passionate bass guitarist has been playing in a rock band for over 20 years and appears regularly at events.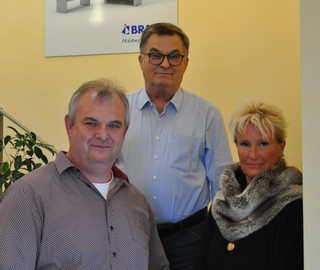 Contact Person
Marketing

Tel. +49 (0) 7663-9320-0
marketing@braunform.com