Employees' children on a discovery tour in nature
08.08.2022
Just in time for the start of the summer holidays and at summer temperatures, the 8th Braunform Children's Day took place on Friday, July 29, 2022. Under the motto "Pure Nature", the focus was on playfully experiencing this colorful world.
After a two-year break due to the pandemic, the organization team was eagerly awaiting the 8th Children's Day. A total of 21 employee children aged 3 to 12 flocked to the "Anglerheim" in Bahlingen at 8 a.m. full of anticipation to explore the secrets of nature. Decorated with children's make-up & glitter tattoos, the children were transformed into a wide variety of insects in keeping with the theme. In the handicraft workshop, the children could plant their own herb pots and build an insect hotel. Board games, large wooden games and children's vehicles provided lots of fun and action. The creative workshop was colorful and full of ideas. Original masterpieces were created here with natural materials, which could be taken home as a souvenir of this day. In addition to the popular painting area, the painting of a joint playhouse was also very popular with young and old. A cozy rest area with blankets, pillows and books invited to rest and relax. In addition, the "Anglerheim" offered sufficient green space for playing and romping. After a joint lunch, an ice cream truck provided a sweet cooling. At the end of the day, everyone was thrilled and has already noted the date for the next Braunform Children's Day in their parents' calendars.
The annual Braunform Children's Day has become a constant institution at the beginning of the summer holidays and is organized and supervised by a team of apprentices with the support of the HR and marketing department. This year's Children's Day of the medium-sized company was performed together with the children's event agency Proki from Freiburg, which was responsible for the professional childcare of the kids of employees and also provided the equipment.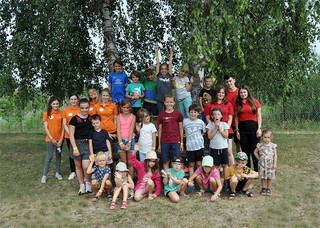 Contact Person
Marketing

Tel. +49 (0) 7663-9320-0
marketing@braunform.com