Discovering technology in a playful way
Trainees do handicrafts with kindergarten children from Bahlingen
04.08.2014
As part of the new project TECHNOlino, our trainees of the 2nd year as tool mechanics visit the cooperation kindergarten "Webergässle" in Bahlingen to playfully discover technology with the 20 children aged five. During the first morning, wooden animals are created with fretsaws, files and hand drills, which are then painted with finger paints and become small works of art. In addition, they practice handicraft skills and encourage creativity.
The basis for a successful cooperation within the framework of the TECHOlino project was laid at the end of last year. After getting to know the children, educators and trainees in April, in June/July there were mornings for experimentation and handicrafts. "The children are totally unbiased and react with great curiosity to what we have prepared for them," the trainees sum up. After so many great impressions on both sides, nothing stands in the way of a repetition in the coming year.
Scientific-technical phenomena are the focus of the "TECHNOlino" project, which is intended to arouse, encourage and maintain natural curiosity of the youngest. The initiative of BBQ (Berufliche Bildung GmbH) has been meeting this challenge for several years now with the help of educational sponsorships with companies.
Further information: www.bbq-zukunftskurs.de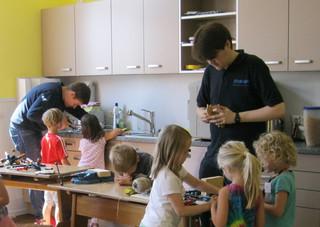 Contact Person
Marketing

Tel. +49 (0) 7663-9320-0
marketing@braunform.com