300. training contract concluded
27.10.2020
Growth needs one thing above all others: motivated and innovative thinking professionals. For this reason, Braunform has been investing in its junior staff for decades and can now sign its 300th training contract.
During the three-year business high school, the 21-year-old Larissa discovers her interest in the technical field and becomes aware of the profession of the technical product designer. "I heard about the good reputation of Braunform and its training work in advance. The trial day gave me detailed insights into the working life of the professional field," Larissa remembers and feels encouraged in her choice of career. "It`s just right for me". From September 2021 she will strengthen the design department.
For more than 40 years, the owner-managed family business has relied on stable growth. The significance and importance of training is reflected both in the above average percentage of trainees and in the high rate of hiring. Braunform traditionally trains for its own needs. "The youth of today gives the world of tomorrow a face. That's why it is very important to us to introduce our apprentices to the professions and thus make them strong for the working world," says owner and Managing Director Pamela Braun. With a modern training center, experienced trainers, interdepartmental projects and a training program tailored to each personality, Braunform offers an ideal framework for the start of a career. Internal training measures also play a key role after the apprenticeship.
"The foundations for the qualification and competence of the employees are laid in a professional vocational training", knows Head of HR and Finance Oliver Bornhäuser. "That is why we attach great importance to keeping the training at a high level and to continuously develop it further". This year, two new CNC milling machines will be put into operation in the training workshop.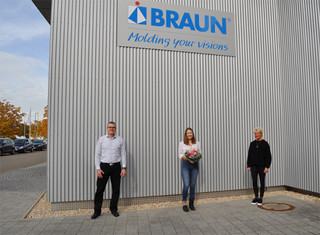 Contact Person
Marketing

Tel. +49 (0) 7663-9320-0
marketing@braunform.com