3. Braunform Children's Day in the wild jungle
05.08.2014
This year the weather has caused some worries but on the 1st summer holiday day all clouds were gone and a total of 46 employee children aged 3 to 11 years flocked to this year's children's day at 11 am according to the motto "wild jungle". Some of the children have already been to a Braunform Children's Day, others have waited impatiently to be allowed to participate for the first time. At the end of the day everyone was amazed and already noted the date for the next Braunform Children's Day in their parents' calendar.
Painted with glitter tattoos, the little ones threw water bombs at wild jungle animals and had a spider race. Afterwards, exhausted by the tortures and dangers of the jungle, they had books read to them on the cuddly blanket or they creatively realized their dreams by painting the common jungle house. Of course, they have to recover from these exertions during a common lunch with delicious food.
The annual Braunform Children's Day has meanwhile become a permanent institution at the beginning of the summer holidays and is organized and supervised by a team of trainees from Braunform GmbH accompanied by the personnel and marketing department. Braunform performed this special day for kids together with the event agency "Zauberglanz" from Freiburg, which was responsible for the professional childcare of the 46 children aged 3-11 and also provided the equipment.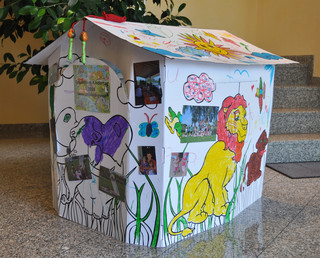 Contact Person
Marketing

Tel. +49 (0) 7663-9320-0
marketing@braunform.com