Trainees support social organization
Together with residents of the "Haus Johannes" trainees build a herb spiral
22.05.2019
As a regionally rooted company, Braunform GmbH assumes its social and cultural responsibility to its employees and the society. The medium-sized company sees itself as part of the society and attaches importance to not losing sight of the social tasks of a company. The sustainable support of social organizations and projects has always been a matter of the heart.

For this reason, the junior staff from the first year of training have taken the social standpoint "Braunform - we act", which has been firmly anchored in corporate policy for many years onto their agenda. Due to the membership to the association "Haus Johannes" in Bahlingen the basic idea was to create an apprentice project in which the apprentices are responsible from the idea to the implementation.

The first foundation for a successful cooperation within the framework of the project was laid at the beginning of this year. At a meeting with André Beckmann (Head of "Haus Johannes") and Klaus Broßys (Chairman of the Association) the trainees presented their idea to build an herbal spiral with the residents and to grill afterwards together. The proposal was very well received and so trainees and residents of the "Haus Johannes" started their work on Saturday, 18 May 2019, after a short welcome. Accompanied by the trainees, one team prepares salads for the barbecue, the other group builds the herb spiral and plants the herbs, which can be used sustainably, as the residents cook in the individual living groups themselves. Satisfied with the result, all participants look back on a successful afternoon.

The "Haus Johannes" in Bahlingen is inhabited by 34 people with different disabilities. The house has one residential group for seniors with disabilities as well as two residential groups, whose residents work during the day in workshops for people with disabilities and spend their free time in their living group. Furthermore there are eight places available in the house for a day care group for people with severe multiple disabilities as well as one short-term care place. The association has set itself the task to support the general life in the "Haus Johannes" to organize leisure activities, to enable purchases that are outside the budget for care and support and in particular to specifically assist individual residents in strengthening their interests.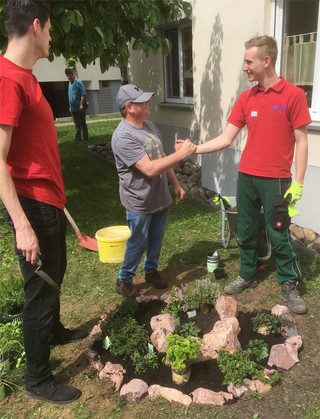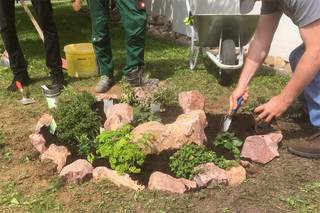 Contact Person
Marketing

Tel. +49 (0) 7663-9320-0
marketing@braunform.com