Support of donation bike tour
24.07.2019
It has always been a special concern of Braunform GmbH to support projects in the region. For this reason, the medium-sized company supports the donation bike tour of Andreas Eckermann, who wants to ride around 1,100 km across Germany with his racing bike.

With his bike tour, from the southernmost point of Baden-Württemberg in Grenzach-Wyhlen to the northernmost point of Germany on Sylt, the passionate cyclist combines a fundraising for the Federal Association Children's Hospice. Andreas Eckermann is accompanied on the first stage by the Bahlinger Football Coach Dennis Bührer, among others, then he will cover the remaining distance alone. Ambassador Eckermann collects donations before and during his campaign, but also attaches importance to drawing attention to the importance of children hospice work. All costs of the donation cycle tour are covered by him, so that 100% of the donations go to the Federal Association Children's Hospice.

The Federal Association Children's Hospice was founded in 2002 on the initiative of outpatient and inpatient children's hospices and has supported over 40,000 children and young people in Germany with life-shortening diseases. Further information about the donation cycle tour as well as the possibility to donate can be found at: www.spendenradtour.de.

As a regionally rooted company, Braunform GmbH assumes its social and cultural responsibility to its employees and the society. "As a company, we see ourselves as part of the society. It is extremely important to us not losing sight of the social tasks of a company. The sustainable support of social organizations and projects has always been a matter of the heart.", says owner and managing director Pamela Braun.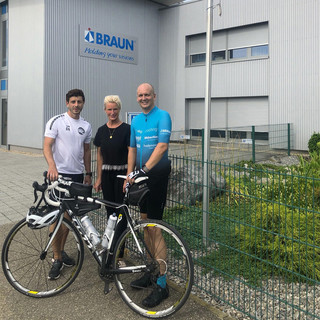 Contact Person
Marketing

Tel. +49 (0) 7663-9320-0
marketing@braunform.com