Donations of 3,750 € for charitable projects
03.06.2019
The social position "Braunform – we act" is very important for the company. For this reason, the General Management of Braunform GmbH is once again supporting charitable projects and associations this year. Suggestions for this came from the immediate environment of the employees with projects that are close to their hearts. The sponsoring amount is couple to the kilometers run by employees at the Freiburg Marathon 2019. Thanks to fifteen runners the budget increases to 3,750 €.

The psychological child care "Tigerheart… if parents have cancer" of the Psychological Cancer Counselling of the Tumour Centre Freiburg receives a donation for the support of families, in which one parent is diseased with cancer. In different therapy hours, the children get the possibility and space to talk about their fears but as well as to experience exuberance and joy. It is a special concern of Braunform to support children and parents in this framework.

In addition, five regional associations receive a donation for their work:
• The nonprofit organization "KiRi – Family & more" in Ringsheim will utilize this donation for activities like cooking, tinkering and playing with children.
• The purchase of a new climbing scaffolds for the outside area of the kindergarten St. Jakobus in Denzlingen will be supported by a contribution.
• The fireworkers in Forchheim receive a donation to purchase new pullovers and shirts for their youth department.
• The nonprofit organisation RSC Bulls Bahlingen receives benefit to support their juniors.
• The desire for new playground equipment from the support association for the redesign of the Bickensohler playground is also fulfilled with a donation.

As a regional SME Braunform assumes its social and cultural responsibility to its employees and the society. The health of our staff and social commitment are important elements of this responsibility. The company acts according to the motto "Responsibility is not a one-way street, it is always a successful balance of give and take."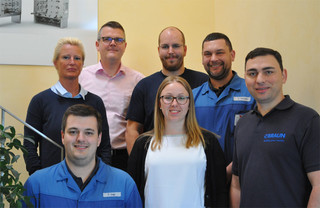 Contact Person
Marketing

Tel. +49 (0) 7663-9320-0
marketing@braunform.com