Trainees complete their training
20.09.2019
The General Management of Braunform GmbH congratulates newly qualified specialists Julia Meyer (industrial management assistant with additional qualification European management), Leandro Einecker (technical product designer), and the tool engineers Björn Bührer, Adrian Hilberer and Maximilian Mutter on successfully passing the examination after three years of training. Especially the performances of Björn Bührer und Adrian Hilberer can be pointed out as they both got a price from their vocational schools as well as Maximilian Mutter who received a praise. Björn Bührer also received a praise of the Chamber of Commerce and Industry.
Due to the well-founded training, the departments are very interested in their own apprentices. For this reason, Björn Bührer, Adrian Hilberer and Maximilian Mutter will take their next career step in the areas of body miling, cylindrical grinding and in the department for modification and repair. Industrial management assistant Julia Meyer will gain her first professional experience in sales and marketing and strengthen the departments there.
Following his successful training, technical product designer Leandro Einecker will begin a dual course of study as Bachelor of Engineering, degree course in mechanical engineering, specialising in plastics technology at Braunform.
The company has been relying on qualified specialists from its own ranks for more than 40 years, and has set itself the task of providing young people with a high-quality start into their working life. With a wide range of training professions, an in-house training center as well as two full-time and highly experienced trainers, the SME underlines the significance and importance of training, which is firmly anchored in the company's strategy.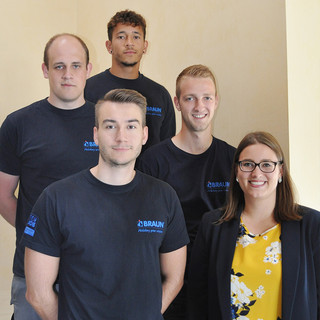 Contact Person
Marketing

Tel. +49 (0) 7663-9320-0
marketing@braunform.com