Trainees complete their training
29.08.2018
The General Management graduates five trainees for their successful finished three years training period: Selina Ruh (Industrial Clerk), Dennis Kreutner (Process Mechanic) and the Tool Mechanics Manuel Hügle, Toni Trinkler und Lukas Schumacher. Especially the performances of Manuel Hügle and Toni Trinkler can be pointed out as they were both awarded with a price of the respective vocational school.

Following her apprenticeship, Industrial Clerk Selina Ruh will expand her expertise in the field controlling / accounting. In order to deepen his knowledge gained from the training even further, Manuel Hügle will begin a dual study in October, for the Bachelor of Engineering, mechanical engineering degree course – specialization in plastics technology, at the DHBW in cooperation with Braunform. The two Tool Mechanics Toni Trinkler and Lukas Schumacher will gain their first work experience in the department cylindrical grinding and assembly. Dennis Kreutner will support the technical service.

With a wide range of training professions, an in-house training center as well as two full-time and highly experienced trainers, the SME underlines the significance and importance of training, which is firmly anchored in the company's strategy. Each year 12-14 apprentices and students of DHBW are intensively trained and taught. On average, more than 40 young talents passed through their education in the company in parallel.

The quality of the training is also reflected in the award achieved this year by the magazine FOCUS MONEY as "Best Training Company in Germany" in the category "rubber and plastics industry".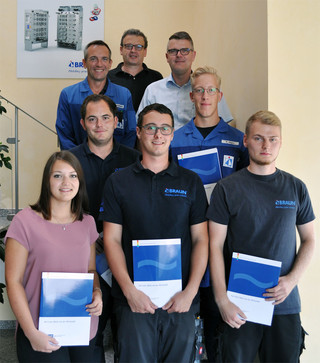 Contact Person
Marketing

Tel. +49 (0) 7663-9320-0
marketing@braunform.com