Successful finished training period
07.03.2018
The General Management of Braunform GmbH graduates five young tool mechanics for their successful finished training period. After three and a half years of training, the handover of the apprenticeship diploma takes place.

Following their three-and-a-half years apprenticeship Sven Kreutner, Hendrik Paluda und Michael Vogel (tool mechanics) as well as David Erb (mechatronics engineers) are taken over in a permanent employment relationship. Their next career step will be started in various departments of the company, such as flat grinding, die-sinking EDM, assembly and technical service to gain their first work experience. Jan-Niklas Krumm is leaving the company at his own request to undertake a longer journey.

Braunform underlines its responsibility as an employer and educator by offering young people a professional perspective through a qualified training. Since many years, Braunform invests in its future by offering various training occupations in the technical and commercial field.

The medium-sized company has always placed great emphasis on the quality of apprenticeship. Each year 12-14 apprentices are intensively trained and taught. On average, more than 40 apprentices and students of DHBW passed through their education in the company in parallel.

The great importance of education work also shows in the annual training day in July that aims on getting the possibility to gain an insight into the company as well as the offered apprenticeships at Braunform.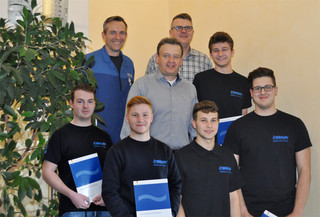 Contact Person
Marketing

Tel. +49 (0) 7663-9320-0
marketing@braunform.com