Jubilee with 30 years of seniority
Norbert Striegel, milling cutter at Braunform GmbH, celebrates his 30 years of seniority.
26.03.2018
When it comes to milling mold inserts for series tools, Norbert Striegel is an expert at Braunform. As a specialist, he has a significant influence on the development of the department. It is always a deep concern to pass on his experience and expertise to younger colleagues and to help other departments. His colleagues appreciate his openness to new things, which is reflected in his positive attitude and his friendly character. With a calm hand and a lot of care, the milling cutter has been proving its strengths in this area for 30 years now. For this reason, the management of Braunform GmbH thanks the jubilee for its years of dedication and commitment to the company. "In our fast-moving age, continuity and loyalty are not a matter of course," says company founder Erich Braun.

At Braunform GmbH, which now employs more than 375 people, employees' qualifications and further training as well as self-responsibility are of highest priority.

Norbert Striegel joined Braunform in 1988 as a skilled mechanical engineer and was hired as a tool mechanic in the field of milling. Starting with conventional machines with manual input via the development of CNC programming up to today's external 3D programming and 5-axis milling with automation. To this day, the mold specialist has been loyal to the department and is a reliable support and a carrier of know-how. The passionate athlete is very active for the Braunform team at the Freiburg Marathon and also for mountain biking.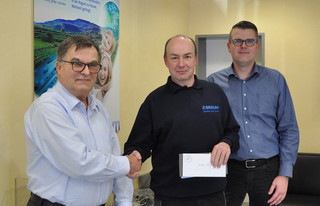 Contact Person
Marketing

Tel. +49 (0) 7663-9320-0
marketing@braunform.com