Jubilee with 25 years of seniority
Already 25 years – congratulations to the Silver Service Anniversary!
22.08.2018
Nowadays, it is a special feature to work successfully in the same company for more than 25 years. The management congratulated the jubilees Martina Sommer (Design Department) and Konrad Kury (Project Management) for their loyality and reliability.

Due to their long service, Martina Sommer and Konrad Kury have experienced and contributed to the technological progress of the company. The management thanked the jubilees for their contribution to this progress. "Only with continuity and creativity in a positive sense, one can reinvent himself again and again over the years." said Pamela Brown, Owner and Managing Director. And General Manager Klaus Bühler adds: "We have gone a long, successful way together. And each of you has made his personal contribution to the development of Braunform GmbH for years."

At Braunform GmbH, with meanwhile 375 employees, employees' qualifications and further training as well as self-responsibility are of paramount importance. The employees of Braunform GmbH have been loyal to the company for decades. This is the success of a strategy of continuity, fairness, loyalty and reliability of the family-run company.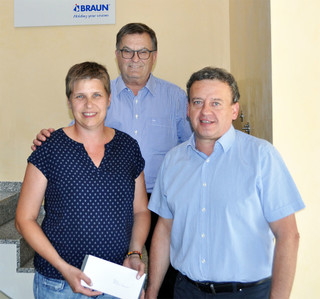 Contact Person
Marketing

Tel. +49 (0) 7663-9320-0
marketing@braunform.com