Jubilee with 40 years of seniority
Axel Häuber looks back on 40 years at Braunform.
11.06.2018
In June 2018, the management of the medium-sized company honors the second employee with a seniority of 40 years. Axel Häuber is one of the pillars of the company, which has developed from a solid craft business to one of the leading industrial companies in the mold-making industry since its founding. As one of the longest-serving employees and the first trainee, Axel Häuber has experienced and contributed to the growth and technological progress of Braunform GmbH.

Such a long period of employment stands for a high solidarity with the company, but also for motivation and enthusiasm at work. Company founder Erich Braun and managing director Klaus Bühler thank the jubilee for his long-time commitment and loyalty. "Know-how carriers like Axel Häuber are indispensable as reliable and loyal supports", says Erich Braun.

At Braunform GmbH, which now is with 375 employees, qualification and further training as well as self-responsibility are of highest priority.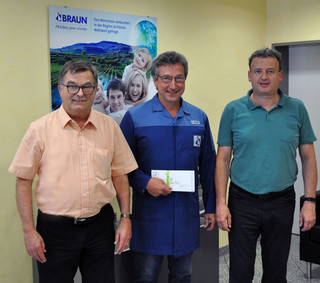 Contact Person
Marketing

Tel. +49 (0) 7663-9320-0
marketing@braunform.com