Joining to the association "Haus Johannes"
22.02.2018
As a regional SME Braunform assumes its social and cultural responsibility to its employees and the society. The health of our staff and social commitment are important elements of this responsibility. It is important for the company to support social engaged organizations and projects on a sustained basis.

As a perfect complement to the company's social commitment, the Braunform GmbH management board officially sealed its membership in the association "Haus Johannes" in Bahlingen, Germany, with coffee and cake. Interviews with residents gave insights into their daily lives, their work in the region and their leisure time activities.

It has always been a particular concern of family Braun, owner of Braunform GmbH, to support projects in the region. "Visiting the institution was a personal matter", says Pamela Braun. For this reason, it was a pleasure to be welcomed so warmly by the residents of a accommodation unit including their caregivers, Messrs. Richard Matern (Head of Deparmtment Living at the Caritas Association), André Beckmann (Home Management), Josa Konstanzer (Group Management) and Klaus Broßys (Chairmen Association) and Konrad Wiedmann (Deputy Chairmen Association). As soon as we arrived, we could feel the family cohesiveness and heartfelt friendliness of the residents of the house.

The "Haus Johannes" in Bahlingen is inhabited by 34 people with different disabilities and sometimes multiple disabilities. In addition there is a short-term care place. The house has two residential groups, whose residents work during the day in workshops for people with disabilities and spend their free time in their living group. A third residential group of the house is available for seniors with disabilities. Furthermore, there are eight places available in the house for a day care group for people with severe multiple disabilities.

The association has set itself the task to support the general life in the "Haus Johannes" to organize leisure activities, to enable purchases that are outside the budget for care and support and in particular, for example, to specifically assist individual residents in strengthening their interests. The residents are particularly pleased about visits to football matches in Bahlingen or to the theme park Europa Park in Rust. But theater projects which are enthusiastically accepted by the residents and therapeutic drum projects are also well received. In particular, it should be emphasized that the association sponsors two 450 € jobs to enable leisure time activities. Especially on weekends it is important that the residents have a structure for the day, as well as the opportunity to participate in public life.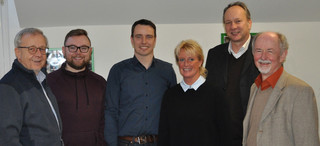 Contact Person
Marketing

Tel. +49 (0) 7663-9320-0
marketing@braunform.com