FAKUMA 2018: Patented quick-change mechanism
24.07.2018
Quality Engineering is very important to Braunform. The company aims to provide maximum value in the field of mold making technology. The focus is on production efficiency and reducing the total cost of ownership for the customer - and this depending on the requested application.
At this year's FAKUMA (the international trade fair for plastics processing from 16th to 20th October 2018 in Friedrichshafen/Germany) Braunform GmbH with partners will be presenting its patented quick-change mechanism mold technology. This mold principle is especially interesting for companies that steadily produce similar articles in small quantities or that have products with a high variety of variants. Another advantage is that changing the inserts is done fully automatically and thus the set-up times / costs are low.
An example of this mold principle can be found on the booth of Engel in hall A5. On an Engel injection machine e-motion 330 / 120TL (fully electric) incl. automation, two geometrically different articles are manufactured in one mold base. These two articles build - when assembled – a caliper as the end product. The special feature of the two articles are the very different shot weights of the two articles, with one of the two articles additionally requiring a slider.
With the quick-change mechanism a change of the floating inserts ejector side/nozzle side is carried out via robot, whereby the cooling is blown out before the inserts are changed. To ensure that the injection molding machine always knows which inserts are currently mounted in the mold base the inserts are coded. Depending on the installed application version, an injection molding machine could vary the process via sensors from Kistler. A robot removes the produced parts and assembles the two articles. The parts can still be individualized via a laser. An ABS is processed with a cycle time of approx. 20 sec.
Project Partners:
Engel Austria GmbH
GÜNTHER Heisskanaltechnik GmbH
Kistler Instrumente GmbH
Meusburger Georg GmbH & Co. KG
Reichle Technologiezentrum GmbH

Since 1977, Braunform has been globally recognized for its innovative top performance within plastics technology. The driving forces of the Braunform success story are a deep understanding of technology and of customer`s specifications, visionary thinking, highest quality awareness and the desire to never stand still. The company has grown from a solid craft business into an owner-managed industrial enterprise with customers worldwide. Braunform GmbH has been characterized by visionary thinking paired with enormous willpower and determination for over 40 years. This combination makes the company unique.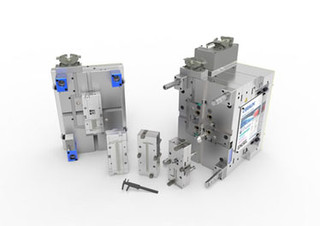 Contact Person
Marketing

Tel. +49 (0) 7663-9320-0
marketing@braunform.com