Braunform forced training
– and starts the new apprenticeship year with sixteen junior staff
11.09.2018
In September 2018, sixteen young people start their training at Braunform GmbH – more than in any other year before. Young talents are trained in the careers of toolmaker (m/f), process mechanic (m/f), mechatronics technician (m/f), technical product designer (m/f), industrial clerk (m/f). Also a dual mechanical engineering study is occupied. In addition to the above-mentioned training professions, a training position as a specialist for warehouse logistics (m/f) will also be offered as a premiere. As of September, the medium-sized company trains 49 junior employees in the technical and commercial fields, which corresponds to a training percentage of 12 % of the total workforce.

Braunform GmbH has always relied on well-founded training to secure young talents and thus supported them in laying the first important cornerstone for a successful career. In addition to the acquisition of professional skills and knowledge, the promotion of social skills and personality development is of great importance. With its own training center and two full-time, highly experienced trainers, the company demonstrates the significance and importance of training. Important elements such as interdepartmental events or joint activities are firmly anchored in the training plan.

Less than two months before the start of training, the well-established trainee-parents-afternoon takes place in order to get to know each other and the future training center. To get started in the professional world, an introductory event and the annual trainee excursion are on the program.

Braunform, as a regionally based family business, participates not only in student seminars and applicant trainings but also in numerous training fairs in order to present the training spectrum. Interested parties have the opportunity to get in contact with trainers and trainees and gain first-hand experience. The next upcoming events are regional vocational training fairs as well as job information days. The application phase for training places 2019 has already begun.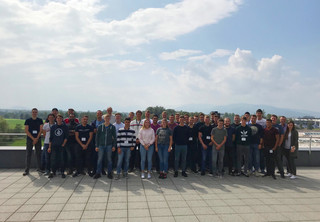 Contact Person
Marketing

Tel. +49 (0) 7663-9320-0
marketing@braunform.com