6th Braunform Children's Day
30.07.2018
Just in time for the first summer holiday day and in bright weather, the 6th Braunform Children's Day took place on Thursday, 26. July, 2018. Children aged between 3 to 12 years old arrived full of anticipation at 10am for the "Anglerheim" in Bahlingen to dive into a "magical fairy-tale world".
In order to embark on the journey into a wonderful world of fairy tales, the new generation listened eagerly to reading stories at the first experience workshop. Artistic and imaginative, it was the tinkering of fairy tale characters and lanterns. Painted with glitter tattoos and children's make-up, the little ones slipped into their favorite fairy-tale role and let their imagination run free in role-playing games. Afterwards, the children had the opportunity to learn magic tricks and turned into little wizards and magicians. In the creative corner colorfully painted works of art were created, which could be taken home as souvenirs. In addition, the "Anglerheim" offered plenty of green space to play and run around. Excitement, fun and action were promised by varied games of skill as well as board games. In the relaxation area, equipped with bean bags and blankets, the children were able to recover and read books. After a joint lunch a further surprise waited: an ice cream truck with sweet cooling.
The annual Braunform Children's Day has become a permanent fixture at the beginning of the summer holidays and is organized and supervised by a team of apprentices with the support of the HR and marketing department. This year's Children's Day of the Bahlinger medium-sized company was performed together with the children's event agency Proki from Freiburg, which professionally cared about the employees' children and also provided the equipment.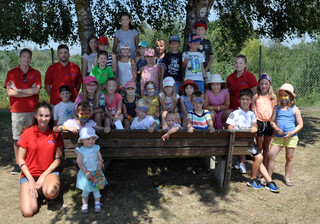 Contact Person
Marketing

Tel. +49 (0) 7663-9320-0
marketing@braunform.com