Employees celebrate during the family day
and also donate for a good cause
03.08.2017
Braunform is celebrating 40 years of company history this year. But not only is the vision of Erich, Elke and daughter Pamela Braun the reason of this success story. More than 350 employees are loyal at the side of the family business from Bahlingen and Endingen in South-West Germany. Reason enough to say "thank you", and to celebrate an unforgettable day with all the employees and their families.
At Endingen, on Saturday, July 1, 2017, a lot will be presented to the guests. In small pagodas, numerous food stations are set up, ranging from barbecue to pasta and Asian delicacies. At noon there is an ice car and a mobile crepery. The party tent has become a meeting point for young and old with versatile music. In this private atmosphere there are many interesting conversations. In short, colleagues from various departments find the opportunity to exchange ideas outside of the business day. In the afternoon, the doors are opened for a factory tour, which a large part of the employees use to proudly show their own workplace.
The children were able to romp on a carousel and a bouncy castle. In the actual canteen area, they can relax in the "chill out area" or beautify themselves with glitter tattoos as well as make-up. And with the bull riding, many of the internal departmental duels of the employees are carried out with fun. Almost 800 guests celebrate together with the management.
On the occasion of the Family Day the employees and the family Braun donate € 1,000 for a good cause. The amount will support the hospice group in Endingen, which since many years accompany on a voluntary basis ill persons and dying people.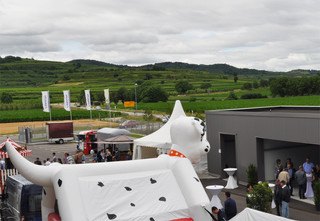 Contact Person
Marketing

Tel. +49 (0) 7663-9320-0
marketing@braunform.com