Trainees of Braunform passed their exams
– takeover in a permanent employment relationship
22.03.2017
During these days, the General Management graduates five young tool mechanics for their successful finished training period: Kai Berger, Max von Freyberg, Roman Grafmüller, Stefan Isele und Janik Schneider. The performance of Roman Grafmüller was awarded with a price of the respective vocational school for an excellent average grade.

Following their three-and-a-half years apprenticeship all of them are taken over in a permanent employment relationship. Their next career step will be started in various departments of the company, such as flat grinding, maintenance, turning, wire and sink erosion, to gain their first work experience.

The sector training has a long tradition at Braunform as the company invests in its future since many years by offering various training occupations in the technical and commercial field. Since the beginning as a company that takes on trainees, already more than 200 qualified employees finished their apprenticeship successfully and could be taken over in a field of application afterwards. The great importance of education work also shows in the annual training day in July that aims on getting the possibility to gain an insight into the company as well as the offered apprenticeships at Braunform company.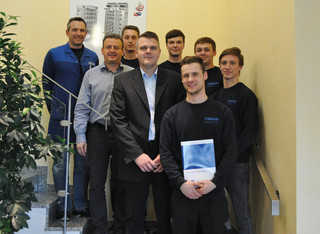 Contact Person
Marketing

Tel. +49 (0) 7663-9320-0
marketing@braunform.com