Trainees celebrate their final examination
30.08.2017
The General Management graduates three trainees for their successful finished three years training period: Joline Deist (Industrial Clerk), Marcel Liegibel (Tool Mechanic) and David Matthiss (Process Mechanic). The performances of the technical trainees are awarded with a price from vocational school and Chamber of Industry and Commerce.

Following her apprenticeship, Industrial Clerk Joline Deist will expand her expertise in the HR department. The Process Mechanic David Matthiss will support the technology center. In order to deepen his knowledge, Marcel Liegibel will leave the company to start further education.

Braunform underlines its responsibility as an employer and educator by offering young people a professional perspective through a qualified training. The medium-sized company has always placed great emphasis on the quality of apprenticeship. Each year 12-14 apprentices are intensively trained and taught. On average, more than 40 apprentices and students of DHBW passed through their education in the company in parallel.

The sector training has a long tradition at Braunform as the company invests in its future since many years by offering various training occupations in the technical and commercial field. Since the beginning as a company that takes on trainees, already more than 200 qualified employees finished their apprenticeship successfully and could be taken over in a field of application afterwards.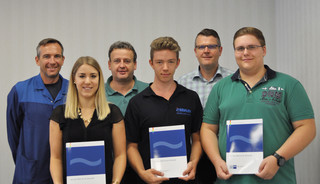 Contact Person
Marketing

Tel. +49 (0) 7663-9320-0
marketing@braunform.com