Successful week full of events
"Science Days", trade fair Fakuma and regional training fairs take place
24.10.2017
A big crowd of people at the "Science Days"
For the fifth time Braunform participates at the "Science Days" at the Europa Park in Rust, Germany. From 19th to 21th October 2017 children, youths and their parents take part in numerous offers under the motto "the human". A total of 85 exhibitors give the possibility to experience science and technology closely with experiments, workshops and shows. The focus is on the active participation of visitors.

In cooperation with the wvib (Business Association of Industrial Enterprises Baden e. V.) and four companies in the region a joint project arise with different stations, on which a pneumatic gripping arm can be produced. Step by step, interested people go through each station under professional guidance to hold their own workpiece in their hand at the end.

As an external event the "Science Days" is one of the trainee projects at Braunform where apprentices are able to contribute creatively and take over large parts of the organization.

Successful Fakuma – international trade fair for plastics processing celebrates its 25th anniversary
Braunform may not be missing at this industry event. With a 50 square meter booth and an eight-person team, the company presents itself according to the motto "40 years of innovation – made in Germany". More than 1.800 exhibitors and 40.000 trade visitors find their way to Friedrichshafen, Germany. Our trainees from the third year of apprenticeship take also part of it: they explore the fair by solving tasks from their trainers and thus gain insights into the world of plastics technology.

Positive response at regional training fairs
As a training company Braunform participates regularly in events such as the "Job-Start-Börse" presenting its training and study offers. The direct contact with the pupils is very important for the company in order to support them individually in their professional orientation. Interested young people have the opportunity to get in contact with trainers and trainees and to gain first hand experience.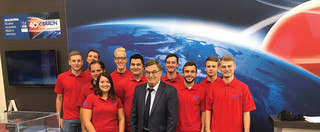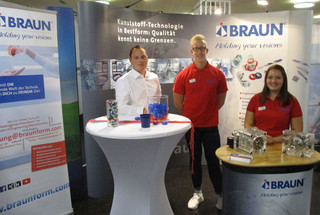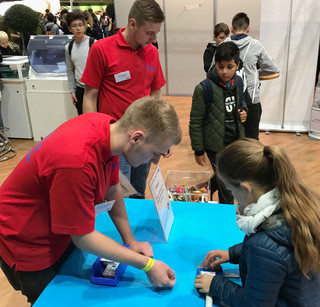 Contact Person
Marketing

Tel. +49 (0) 7663-9320-0
marketing@braunform.com