Studying dual at Braunform
20.07.2017
Moritz (26 years old) graduates his academic studies becoming a "Bachlor of Arts – Industry" with dual system at Braunform GmbH. The feature of a dual system is the combination of academic theory and practical application in an enterprise. Due to the practical part of the studies it is very diverse and offers the possibility to collect practice as well.
Moritz explains: "In a changing rhythm of three months I study at college and work at Braunform". The study paths are very versatile. Vocational elements are integral parts of the study paths just as the transfer of knowledge in national and operational economics. These basics are supplemented through lectures on topics such as the actual information technology. After the basic study the college students select emphases from six different specializations. The choice is between controlling, marketing, information management, materials logistics, human resources and service management. Optional the students can choose courses in mechanics, materials science and electrical engineering to improve their technical know-how.
During the time at college students go to different lectures and write their exams at the end of the semesters. "I really like the dimension of a course, because there are only 30 students in it. On the one hand teambuilding and creating a good atmosphere is much easier and on the other hand you have more face to face interaction, also with the lecturer", Moritz adds.
Students can take part of language courses, sport courses and intercultural events. Furthermore it is possible to do a semester abroad at one of numerous partner universities. "I spend a semester in the USA. It was a great time there while making precious experiences. There are also political-international offers to evolve ourselves. I am part of the college delegation and represent the United Arab Emirates at the UN-simulation conference NMUN 2017 in New York", explicates Moritz.

Through discounted access to additional qualifications one can enlarge the study Moritz interposes "For example, I get further qualification to be a Quality Supervisor and Internal Auditor"
During the phases in the enterprise there´s the opportunity to become acquainted with different departments where the students gain insight of the daily routine and moreover get the chance to assume responsibility for first projects.
As parts of the study with dual system the college students have to draw up two project thesis and a Bachlor thesis which consists of the business economic theorie, applied on a business problem. At this juncture the managers and employees in the different departments of Braunform GmbH always support. "The expenditure of time and expanse should not be underestimated. But with the necessary ambition it is no problem to achieve good results and develop personally and professional through this educational time" summarizes Moritz.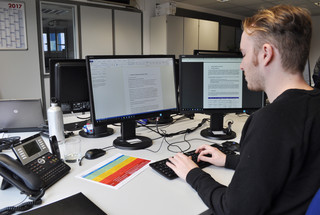 Contact Person
Marketing

Tel. +49 (0) 7663-9320-0
marketing@braunform.com