Best student of their year
16.01.2017
Debora Mattmüller from Ihringen finishes her three-year dual study as a bachelor of arts at the University of Cooperative Education of Baden-Württemberg in Lörrach as the best student of their year. She reaches her graduation of university with the grade "very good" and received therefore a prize. Moreover she receives the best grade with her thesis on the topic "Analysis and development of improvement proposals for the investment control of Braunform GmbH".

"We are very proud of such outstanding achievements," emphasizes Oliver Bornhäuser, Head of HR and Finance. "For us, the topic of apprenticeship has a high priority, which is not only reflected in our increasing training rate and the consistently high quality level of our graduates." But that we have the best student of their year in our own ranks is something special for him, too. Debora Mattmüller is now taken over into a permanent employment relationship in the personnel department. Among other things, she is jointly responsible for HR marketing, where particularly innovative ideas and a high level of commitment are required.

After graduating from Abitur in the year 2010, Debora Mattmüller completed her 3-year apprenticeship as an industrial clerk at Braunform. Thanks to her high ambition, she directly saddled on to the dual study. During these six semesters, she go through smaller departments to get to know them intensively and to work with them. She developed concepts for the practical project work and was able to analyse and optimize some processes. As one of the highlights during her training period, she highlights the stay abroad in Plymouth, England.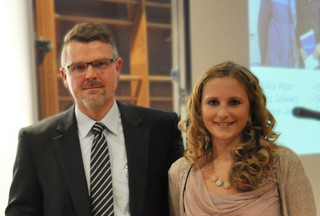 Contact Person
Marketing

Tel. +49 (0) 7663-9320-0
marketing@braunform.com