30 years seniority: Thank you Eddy!
16.02.2016
On 03.02.2016 the management of Braunform GmbH in Bahlingen/Endingen honored Edwin Benz-Pollmann for his 30 years seniority.
Nowadays, it is a special feature to work successfully in the same company for more than 30 years. General Manager Klaus Bühler and Head of HR and Finance Oliver Bornhäuser expressed their thanks to the jubilee for his commitment, loyalty and reliability. "The experience of our long-standing employees is of great importance to our company," says General Manager Klaus Bühler. At Braunform GmbH, which now is with 375 employees, qualification and further training as well as self-responsibility are of highest priority.
Carreer:
Mr. Benz-Pollmann completed his training as a toolmaker at SIW in Freiburg. On 03.02.1986 Edwin Benz-Pollmann started his activity at Braunform GmbH in the final assembly of the mold maker. After collecting extensive technical know-how, Mr. Benz-Pollmann took over the management of the assembly in 2000. In 2006 he moved to the production department and brought his know-how to the management of tool maintenance. This also included technical analyses of the process reliability of tools to ensure smooth production. In the year 2008 Mr. Benz-Pollmann changed as know-how carrier into the area of project management. Since 2012, Mr. Benz-Pollmann has also been responsible for the interests of the employees as chairman of the works council and promotes a constructive and good discussion with the management of the company.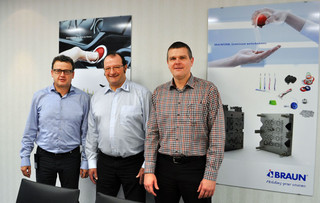 Contact Person
Marketing

Tel. +49 (0) 7663-9320-0
marketing@braunform.com