Bright childrens´s eyes at 5th Children´s Day
08.08.2016
Just in time for the start of summer holidays and with glorious weather the 5th Braunform Children´s Day took place on Thursday, 28th July 2016. The organizing team invited the children to the "fishing home" at Bahlingen to spend the day according to the motto "a day at the farm".

The initial shyness of the nearly 30 employees children aged 3 to 12 years quickly vanished. In the creative corner the small farmers had the opportunity to tinker animal masks for role playing games or funny window decorations. As a gift for the herb garden at home pots with cress were seeded. Both small and great raged around on wiggle bicycles, painted with glitter tattoos and makeup and they presented their talents with skill games. Relaxation was offered by a cozy reading area or the communally painting of a farmhouse made of cardboard. After games, fun and action a lunch together could not be missed. Finally a little surprise awaited the children: during a tour with the tractor the children could discover the beautiful "Kaiserstuhl" landscape. The trainee team enjoyed the successful event and the sparkling children´s eyes.

The annual Children's Day has become a fixed institution at the beginning of the summer holidays and is organized by a team of trainees of Braunform, accompanied and supervisd by the personnel and marketing department. The Children´s Day was conducted by the Bahlinger company Braunform together with the children´s event agency "Zauberglanz" from Freiburg, who were responsible for the professional care of the employees' children and also presented the equipment.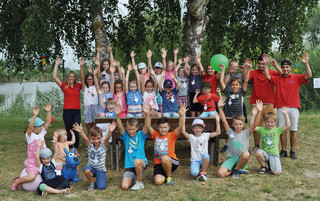 Contact Person
Marketing

Tel. +49 (0) 7663-9320-0
marketing@braunform.com