Braunform GmbH honored with Jobmotor 2015 award
24.04.2016
Last Friday, April 15, 2016, Braunform GmbH was one of the winners of the "Jobmotor" competition. The Jobmotor competition, which was launched in 2006, is organized by the daily newspaper "Badische Zeitung", the Chambers of Industry and Commerce of Freiburg, Schopfheim, Villingen-Schwenningen, the Chamber of Crafts of Freiburg and the Trade Association of Industrial Enterprises Baden (wvib). 45 companies from the region of south Baden applied this year, six companies received the desired prize. Among them is the company Braunform.
"We are very enthusiastic about the price. Especially since we received the award in the category "Find & retain employees". We are very pleased about this award", says Pamela Braun, Managing Director.
The decision about the awarding of the prize was made by a selected jury of experts. The decisive factors for the placement were on the one hand the absolute and percentage increase in the number of jobs last year and on the other hand the best ideas for staff retention. And this is exactly where Braunform GmbH is very strong from the jury's point of view.
In the laudatory speech Dr. Christoph Münzer (Managing Director of wvib) paid tribute primarily to training and the early and intensive recruitment of trainees. Training is a top priority at Braunform: 43 out of 327 employees are trainees. The many measures and actions offered to employees by the company were also mentioned, such as events in the field of knowledge and health management.
The employees of Braunform GmbH have been loyal to the company for decades. This is the success of a strategy of continuity, fairness, loyalty and reliability of the family-owned business. The written fixation of values and management rules provide the company with the basis for this as well as the existing personnel marketing structure. In addition to the hard facts such as salary structures, the company has for years built up its reputation as a top employer both internally and externally with targeted measures in the areas of health management, knowledge management, addressing young people and sponsoring employee projects. Other measures include, for example, an employee newspaper published twice a year.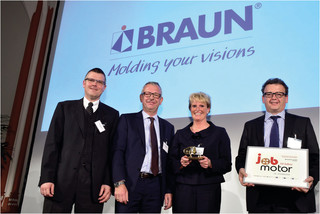 Contact Person
Marketing

Tel. +49 (0) 7663-9320-0
marketing@braunform.com