Support of charitable projects in the region
– higher sponsoring payment of 3.500 € due to the employees participation at the Freiburg Marathon
20.05.2015
This year once again the General Management of Braunform GmbH donates an amount of 3.500 € for charitable projects and nonprofit associations. Suggestions for this came from the immediate environment of the employees with projects that are close to their hearts. The responsibles couple the sponsoring amount to the kilometers run by employees at the Freiburg Marathon 2015. Due to twelve half-marathon runners and two company relay teams, the management increases the budget.
A committee of management and employee representatives has established the following distribution:
Due to a registration campaign for the German Bone Marrow Donor Center (DKMS) regarding an eleven-year-old boy from a neighbor village, they received a donation of 3.000 €.
In addition, the staff was called to tribute a small, voluntary contribution to the DKMS. Here again around 650 € were collected to financially support the non-profit organization with the costly registration and typing campaigns.
Other proposed projects which will be financed:
The desire of a trampoline for a kindergarden nearby, we fulfill with a donation of 250 €
A Table Tennis Club next to Braunform receives also 250 € for various acquisitions and the financing of travel expenses and training sessions
As a regional SME Braunform assumes its social and cultural responsibility to its employees and the society. The health of our staff and social commitment are important elements of this responsibility.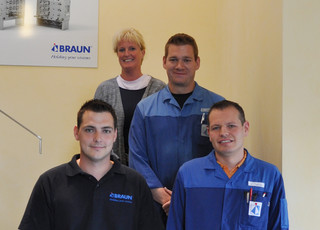 Contact Person
Marketing

Tel. +49 (0) 7663-9320-0
marketing@braunform.com