New generation at Braunform GmbH
New Management Board from September 2015
01.10.2015
Family Erich Braun announced that the company succession of Braunform GmbH is successfully finished by reorganizing the Management Board. On September 18, 2015 Mr. Klaus Bühler and Mr. Emmanuel Foyer were appointed General Managers of Braunform GmbH. "My daughter, Pamela Braun, and I are managing the company together since several years and I now decided to withdraw from the operative business. The company is now directed by my daughter Pamela Braun, Managing Director, as well as Mr. Bühler and Mr. Foyer." Erich Braun said in a statement.
Klaus Bühler (50) started his career in the company at September 1, 1979 with an apprenticeship as a mold maker which he completed with the Master Craftsman´s certificate in 1993. After passing through various departments of the company Mr. Bühler was granted power of attorney in 2001. Since 2008 he was responsible for the Design and Engineering Department as well as Project Management. In the position of General Manager of Braunform GmbH he is mainly responsible for the business unit Mold Shop.
Emmanuel Foyer (43) has been active in various positions in the plastics industry since studying Engineering in Marseille. Prior to be named General Manager of Braunform GmbH he held jobs like project management in a mold shop, purchasing as well as management of an OEM in the electrical industry. Since 2011 he has been responsible for the Plastics and Pharma Production of Braunform and was granted power of attorney in 2012. In the position of General Manager of Braunform GmbH he is mainly responsible for the business unit Plastics and Pharma Production.
With the regulation of the company succession family Erich Braun set course for the future of Braunform GmbH. Particularly noteworthy is the fact that the internationally recognized company will remain family owned with a young and varied experienced management team, represented by the Managing Partner Pamela Braun. This management team will continue the business in the sense of family Braun. "The continuity and growth of our company are thus ensured as well as with our unique, highly qualified and highly motivated team. Our corporate culture will continue to exist and will remain an important pillar of our success." said Pamela Braun.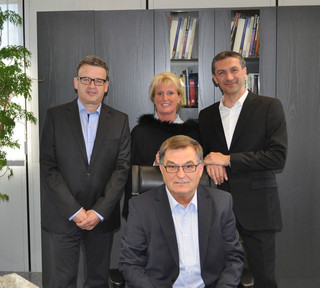 Contact Person
Marketing

Tel. +49 (0) 7663-9320-0
marketing@braunform.com