Braunform congratulates trainees on successful passed exam
Five trainees in three professions have finished their three-and-a-half year training period successful.
15.04.2014
Felix Vogt, Tobias Keller, Marco Hannemann – tool mechanics (m/f), Tamara Leber – technical draftswoman (m/f) and Florian Klaus – electronic technician (m/f). Especially the performances of Tamara Leber and Tobias Keller can be pointed out as they were both awarded with a price of the respective vocational school.

All five graduates will be taken over in an employment after their apprenticeship.
They will gain their first work experience in three different company divisions like Moldshop, Design Department and Technical Services because for skilled workers they will find all doors open for the future.

The sector training has a long tradition at Braunform as the company invests in its future since many years by offering various training occupations in the technical and commercial field. Since the beginning as a company that takes on trainees, already more than 125 qualified employees finished their apprenticeship successfully and could be taken over in a field of application afterwards.

Due to the annual training information day (05.07.2014) all interested applicants get the possibility to gain an insight into the apprenticeship company Braunform.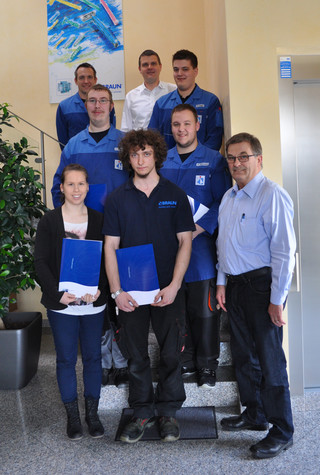 Contact Person
Marketing

Tel. +49 (0) 7663-9320-0
marketing@braunform.com