Certification of the Energy Management System
At Braunform sustainability has many faces
11.02.2014
With an Energy Management System which is firmly anchored in the company's policy, Braunform pursues ambitious goals of environmental policy and resource conservation for some time. The next logical step has been taken place in December 2013 in the form of the certification ISO 50001:2011 by TÜV Süd.

"The two-day audit was very positive and nothing prevented the certification," says Tobias Diehr, Energy Manager at Braunform. Especially the in 2013 launched trainee project "energy detectives" that already went in the third round in October 2013, showed a high potential of improvement regarding air leaks and lighting.

The aim of the Energy Management Team is to reduce the specific energy consumption in the coming years and thus significantly contribute to the reduction of CO2 emissions. Potential measures are determined e. g. with the help of an Energy Monitoring System whereby all energy sources can be measured and analyzed. Furthermore, in 2014 some "energy detectives" projects are planned.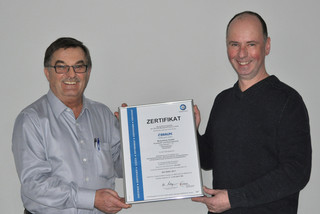 Contact Person
Marketing

Tel. +49 (0) 7663-9320-0
marketing@braunform.com