"Energy detectives" has proven successful
Protecting the environment, reducing costs and supporting the sense of responsibility
10.12.2014
The certification of the energy management according DIN EN ISO 50001 is not the only reason of the high importance of energetic aims at Braunform. The trainees regularly identify potentials for energy savings as "energy detectives" - Searching for some real "energy guzzlers", e. g. compressed-air leakages, scanning the building by a thermal camera or checking all the lights of the business premises.
Especially releasing compressed-air has huge potential savings. Already for the fourth time three trainees (two tool mechanics and one industrial clerk) searched after compressed-air leakages in both company buildings of Braunform. One of them handled the ultrasonic device; the other ones were responsible for the documentation by doing photos and registering the leakages on the building plan. This notes support the technical service to remove them. Finally the team presented their results to the management.
Compressed-air is really expensive due to the complex preparation (for example drying, oil removal, particle filtration). According to a study every company loses in average 30 % because of leaks.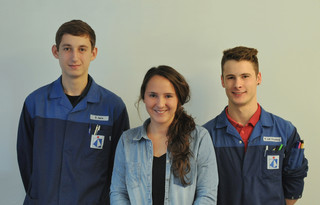 Contact Person
Marketing

Tel. +49 (0) 7663-9320-0
marketing@braunform.com